Welcome To The Vancouver Island Soccer League.
We have been in existence since 1895, providing an opportunity for organized, structured soccer for all adult men. Our categories; Competitive, Recreational, Masters and U21. Feel free to follow us along on any or all of our social media paths; we love to include the communities in which our membership lives.
We hope you enjoy exploring our new website, make sure to come back regularly for updates. Oh and be sure to support our tremendous League Sponsors.
Happy Browsing And We'll
See You At The Pitch!
Division U-21 - Pool: All
See Standings for All Divisions

November Membership News
Posted: 11/26/2018
3 part monthly update/news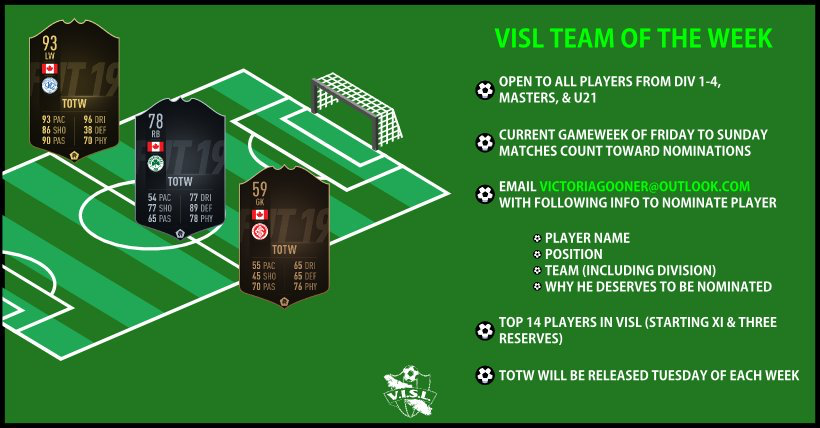 Team of the Week & Social Media
Posted: 10/26/2018
TOTW & Hellas
The VISL / David Keith Scholarship Fund
Posted: 9/25/2018
In memory of David Keith, for local soccer players.
Footballer of the Week
This week's Footballers of the Week are the Prospect Lake/Peninsula U15 Silver Girls.
Coached by Geoff Burkinsaw & Susie Ritchie and managed by LoAnne Burkinsaw, the team is most definitely in the right division and are competing on a regular basis despite a short roster of players. The past two weeks have shown the management exactly what they were hoping for when they put this team on the field for their first game in September. A recent tie against one of the top teams and a 4-0 win this weekend have given them some confidence heading into the last game before the winter break. The team is currently sitting in the middle of the pack of an eight team division and is due to play the top team this coming weekend.
"They are great girls to coach and good teammates to one another so win or lose I love getting to be around this group," said Ben Hooks, PLSC TD. "It is truly a pooled effort with lots of Prospect Lake and lots of Peninsula players and coaches/manager, both clubs are proud of these girls."
This team is also one of the 10 random teams to get an early
Christmas
present and have to prove their addresses this year so for the extra effort we thank them for their speedy attention to the matter and hope they are as speedy on the field this weekend.
Congratulations on being named this week's Footballers of the Week!
Brought To You By UNITED FOOTBALL; A Collaboration Between VISL, LISA & LIWSA