Welcome To The Vancouver Island Soccer League.
We have been in existence since 1895, providing an opportunity for organized, structured soccer for all adult men. Our categories; Competitive, Recreational, Masters and U21. Feel free to follow us along on any or all of our social media paths; we love to include the communities in which our membership lives.
We hope you enjoy exploring our new website, make sure to come back regularly for updates. Oh and be sure to support our tremendous League Sponsors.
Happy Browsing And We'll
See You At The Pitch!
Division U-21 - Pool: All
See Standings for All Divisions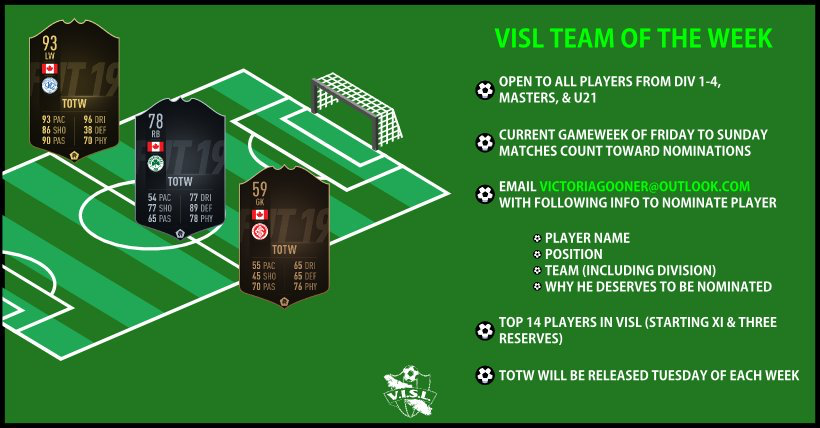 Team of the Week & Social Media
Posted: 10/26/2018
TOTW & Hellas
The VISL / David Keith Scholarship Fund
Posted: 9/25/2018
In memory of David Keith, for local soccer players.

2018/2019 Division Liaisons - UPDATED
Posted: 9/12/2018
Contacts and brief outline for calling in of game related info.
Footballer of the Week
This week, Footballer of the Week recognition goes to:
2003 VI Wave Girls
Coached by Amelia Ng and Madison Ashcroft the 2003 girls team is the Cinderella story of the BCSPL Fall Season. Headed into the playoffs as the #8 seed, the U15 girls knocked off the #1 seed AND 2018 U15 National Champions Mountain United. The very impressive 2-1 scoreline while on the road gave them all the confidence they needed to head into the Remembrance Day semi-finals. The Wave again travelled to the mainland where they took on 4th place Fusion FC. The game was a close battle including a few posts but the only goals to go in happened in the plenty shoot-out at the end of regulation. Saryn Knox was the hero of the day scoring to give her team the victory and great ferry ride home.
Congratulations to Lilly Wood, Claire Pontefract, Grace O'Regan, Brooke Evans, Jamie Coukell, Lily Mannall-Fretwell, Jaymee Scollon, Hayley Weeks, Nicole Burnett, Jillian McCue, Saryn Knox, Amanda Russell, Payton Rangel, Georgia Harte, Georgia McLean, Sydney Harrison, Maya Gibson and Jenna DeGreef (permit).
There are a total of 5 VI Wave teams in the League Cup Finals at UBC this weekend. Joining the 2003 U15 Wave on Sunday are the U13 and U16 girls teams and Saturday sees the U14 and U15 boys teams go for gold.
Good luck in the Finals! For More information see www.bcspl.ca
Brought To You By UNITED FOOTBALL; A Collaboration Between VISL, LISA & LIWSA